Facilities
Oakhurst Farm is Eastern Ontario's premiere Eventing facility, offering the following features:
• Heated indoor arena 156′ x 72′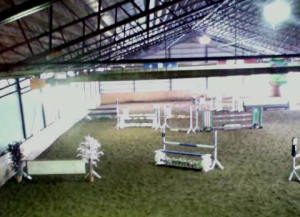 • Heated viewing room
• 2 Outdoor sand rings
• Indoor Wash stall – with both hot & cold running water, heat lamps and rubber matting
• Outdoor Wash stalls
• All 27 box stalls in the main barn are fully rubber matted and equipped with automatic water bowls with an individual shut off
• Laundry facilities
• Access to miles of safe hacking on maintained trails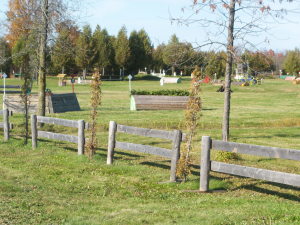 • Boarder lockers for saddles, bridles and other equipment
• Cross-country courses, Pre-Entry-level through Prelim, all with water options
Services
• Custom Equine feed program, Veterinarian designed and monitored including free choice hay outside, 2 – 3 hay feeds a day inside and up to 4 grain feeds
• Custom conditioning program designed for your boarded horse
• Turnout for all horses in small groups or pairs including any blanketing required
• Administration of Herd Health Program for boarded horses
• Administration of Blacksmith Program for boarded horses
• Certified Equine Massage Therapists on site to provide treatments for boarded horses
• Clinics with internationally renowned Equestrians on site throughout the year
• Indoor shows (dressage, jumper and radical jumper) regularly through the winter
• Recognized Horse Trials on site annually
• Recognized Dressage Shows on site annually
• Upper Canada Derby  competitions on site throughout the year
• Trailering
If you are interested in becoming a part of this exciting Eventing Team as a boarder, please don't hesitate to contact us.
Current Fees (2017)
Monthly Board
Group Board includes four group lessons   $850.00 plus HST
Semi-Private Board includes four semi-private lessons   $870.00 plus HST
Private Board includes four private lessons   $940.00 plus HST
Training Board includes all training rides   $1,260.00 plus HST
Layup Board includes veterinarian directed care (daily bandaging, etc.) by Oakhurst staff.   $800.00 plus HST
Board lessons are not transferable between riders. If lessons included in Board are missed during the month, no credits will be given, it is the Boarder's responsibility to arrange make-up lessons within that month.
Other
Training Rides/Package fees can be found on the Training page.
Certified Equine Massage Therapist Treatment $70 per session plus HST
Coaching Fees for Horse Shows, Events etc, includes course walk for Events. $70.00/day plus HST
Overnight Charge for Horse Shows spanning more than one day (covers coach accommodation, food, etc…) $35 per night plus HST
Day Leases (for shows, clinics etc.) can be arranged on an individual basis.   $75 per day plus HST
Trailering Charges are based on a 50 cents per kilometer rate per horse.
Lesson Fees can be found on the Lessons page of this site.
NOTES: Fees are due and payable on the FIRST day of each month. Any fees unpaid by the end of the month will be subject to a late charge of $10. The charge for NSF cheques will be $25.
Oakhurst boarders and students may pay by MasterCard, VISA, Cheque, Cash or e-transfer.