Riding ponies and competing from a young age, progressing to completing Advanced level 3 day events, Mark has a well rounded sense of the horse and rider partnership required to excel at every level of equine sport. Starting his equine career as young Pony Clubber and 4H member, to competitor on the Arabian circuit, Mark was involved in many different scenes within the equine world. Progressing to the Jumper ring and finally settling into the world of 3 Day Eventing for the past 20 years has given Mark a very developed and balanced view of the equine community as a whole.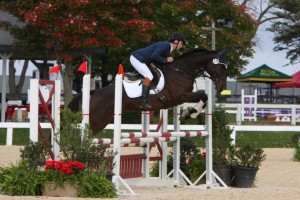 Aside from his competitive career as an international Eventer, Mark has earned many qualifications over his years in the Equine world.  Along with being a certified farrier, Mark is an Equine Canada Level 2 Technical Delegate and a Recognized Cross Country Course Designer. Working on the Ontario Horse Trials Association Board as a Director for several years, Mark was deeply involved in the North American Young Riders program. From helping provide education and competition opportunities to young Ontario riders to organizing and preparing a team for the annual trip to the Championships, Mark remains an active supporter of the North American Young Riders program and continues to advise the current organizers. In 2015 Mark acted as Chef D'Equipe for the Ontario team (Show Jump, Reining and Dressage) competing at the Canadian Inter-Provincial Equestrian Championships (CIEC) at Wesley Clover Park. At the competition, Team Ontario won many awards and experienced their most successful competition to date.
Mark actively promotes Eventing in Canada and is the President and Competitions Chair for the Ontario Equestrian Federation's Board of Directors.  As OEF President, Mark is working to create a more cohesive and inclusive atmosphere, representative of the needs of the provincial membership. By promoting coaching, long term athlete development and growing the grassroots of Canadian Equestrian sport, Mark is focused on growing our sport and helping more Canadians recognize their love for all things equine than ever before.
For the 2015 Pan American Games in Toronto, Canada, Mark was honored to be chosen as Supervisor of Eventing. Working with the Pan American Games Committee, Mark organized and ran all 3 phases of the first Pan Am Games Eventing competition in Toronto held July 16-19, 2015. Hailed as one of the most successful Games in Pan Am history, Mark worked to ensure that the experience for the International athletes, coaches, officials and spectators was world-class.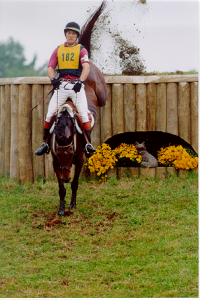 Mark experienced his first taste of international success riding the ex-racehorse, Power of 2 (Dino). The pair enjoyed a 4th place finish at the Advanced Horse Trials at Morven Park, and were Long Listed status with the Canadian Eventing Team in 2006. Now Mark is working with other promising event horses.  Mark operates Oakhurst Farm with his wife, Ruth Allum, who is also his coach. Together they have two children, Eric (2001) and Tatum (2005).