Ruth is the head coach and trainer at Oakhurst Farm. Ruth is married to Mark Nelson and together they operate Oakhurst Farm. Together they have two children, Eric (2001) and Tatum (2005).  As a coach, Ruth's commitment is to the total physical and mental preparation of both the rider and the horse in the sport of Eventing.  She is dedicated to coaching her more than 60 students at Oakhurst Farm.
Having competed herself at the Preliminary level, Ruth combines her real life experiences as an Eventer with formal training as an Equine Canada certified coach, and High Performance Coach. During her more than 20 years as a coach, Ruth has taken students from beginner levels to high levels of international competition. Whether her students are competing at the Pre-Entry or Advanced level, they still receive the benefit of Ruth's careful attention to detail in riding, conditioning, and building a strong horse and rider team.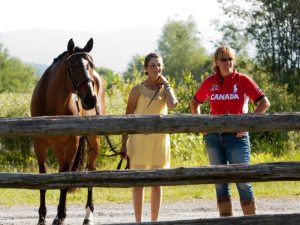 Ruth's students have reached very high levels of excellence. She has coached horse rider teams to the Provincial Championships, the North American Young Rider Championships, the Canadian Eventing National Talent Squad as well as to a place on the Canadian Eventing Team Long List.
Ruth continues to actively promote the sport of Eventing in Eastern Ontario by serving on the National Capital Horse Trials Association board.  She is also an Equine Canada Rider Level 1-8 Evaluator and an Equine Canada Rider Level Evaluator Mentor.  Ruth is also an EC Certified Coach Developer – Evaluator for new coaches. Nationally, Ruth is proud to have been elected to the Canadian Eventing Committee and named to the Equestrian Canada National Coaching Committee – representing Certified Equestrian – Eventing Coaches at the national level.
In 2011 Ruth was honoured to receive an award from Equine Canada as the High Performance Coach Candidate of the Year.  Ruth has achieved her Competition Coach Specialist – Eventing Coach certification with Equine Canada.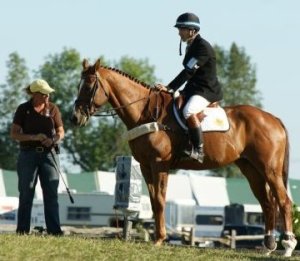 Need to contact Ruth directly?
Send her an email and she'll get back to you!