Oakhurst Farm is working to continue a program started in 2014 which is focused on athlete development of local riders, starting at the grassroots levels, aiming to develop riders to the higher levels of eventing. The program includes coordinating and providing support to 2 or more teams to attend the Midsouth Team Event – held at the Kentucky Horse Park in Lexington, KY, October 19-23, 2016.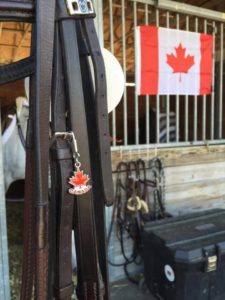 The Oakhurst Team will help support 2 teams (or more depending on interest) to compete at the Midsouth event – 1 Pre-Training level Team (4 members) and 1 Training level Team (4 members). In the Team competition, there is NO distinction between Junior and Senior competitors, so we can put a mix of both on our teams. Competitors will compete as a Team and may receive both team and individual prizes.
The goals of our competitors attending the MidSouth Team Challenge:
To give Pre-Training and Training level riders the team experience.
To give these riders the opportunity to ride in the Kentucky Horse Park.
To show the rest of North America how amazing eventers from the Ottawa area are!
Entries for the Midsouth Team Event are due in late August, so applications must be submitted to Oakhurst Farm for sponsorship by July 31st, 2016.The proceeds from our fundraiser on July 31st at the Oakhurst Horse Trials competitor party, will be used to coordinate and help support the competitors selected for spots on the teams.
Selection criteria is:
Must be competing at the level applying for – Pre-Training or Training
Must have competed successfully (completed all 3 phases) at minimum of 1 Ottawa area event at the level applied for before August 15th – NCHTA/OHTA leaderboard standing will be used to help determine selection, but will NOT be our only consideration.
Should have completed 1 event out of province of Ontario.  The following Quebec events are all appropriate as qualifiers for the teams:
June 18-19, Little Bromont HT
July 2-3, Napierville HT
July 16-17, Tandalee HT
July 31, Robinson HT
August 6-7, Harmony HT
Must complete the "Declaration of Intent to Compete at Midsouth" form and email it to Helen Richardson by July 31st, 2016.
Fundraising – Attendance and involvement in the fundraiser on July 31st is strongly recommended.
Once selected, in order to go, Horses must be registered with the USEA.
Once selected, in order to go, Riders must be members of USEA.
Once selected, in order to go, Horses will require a Certificate of Vaccinations and will also require a current coggins as per Border Crossing requirements – questions about all requirements can be forwarded to Ruth Allum.
Ruth Allum will be available to provide coaching services while the teams are competing at Midsouth.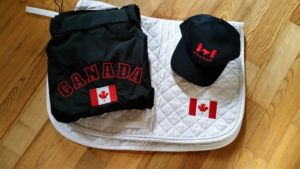 Our fundraiser to support this initiative includes a silent auction, being held the evening of July 31st at Oakhurst Horse Trials.  Any donations for the silent auction will help provide more financing for team members, and would be greatly appreciated. Donations can be discussed with Barb Eamer – our silent auction coordinator – barbeamer@royallepage.ca
As team entries are submitted together, Ruth Allum will be collecting entries and coordinating submission once the selected candidates have been notified to ensure everything goes smoothly.
The complete info package can be downloaded here.
Helen Richardson